At Verteego, we're big fans of the value proposition of Club ADEME International for its members (we've been a member since our inception). Club ADEME International is strongly committed to the success of the global expansion efforts of its members, and networking at Club ADEME International events is always world-class.
Olivier Chazal is in this interview the visible face of a club that pushes hard for French environmental excellence to be bought from everywhere. Olivier (and Philippe, Laurent, Cécile, Evelyne, Christophe…) works hard to foster the French cleantech ecosystem, and I can also testify the Club ADEME International team knows how to play hard as well, when need be.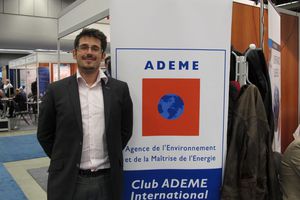 – What do you do Olivier Chazal?
I'm the manager of Club ADEME International, a network of innovative French Cleantech companies, dedicated to international projects.
– What's your background?
I'm not an engineer,  which may look a bit strange in the Cleantech world! I have a masters degree in geography with a speciality in the energy sector and international relations. Then I worked to strenghthen the economic link between the north and the south of the Mediterranean Sea (Union pour la Mediterranée).
– What's the purpose of Club ADEME International?
The main goal of Club ADEME International is to help its members in the development of innovative projects and international partnerships. Club ADEME International supports its members by proposing them, in partnership with environmental agency ADEME and other public bodies, a support for innovation to favor their international deployment in the fields of environmental protection and energy management.
– Why should companies join Club ADEME International?
Club ADEME International is more than a classical network. It is a place where companies and public bodies are speaking together to build innovative projects abroad. It is also a place where to meet other French innovative companies who are already involved in exporting goods and services. It is very helpful when you want to develop your companies but you do not know anything about going abroad.
– Could you perhaps describe two recent actions Club ADEME International has undertaken for its members?
The latest one: we are doing a special training to answer to international calls for project from finance institutions (World Bank, Asian Development Bank…). The purpose of this training is to build consortia of French SME to win these projects.
Another one, we are present every year on the main environmental trade fair in Europe: Pollutec. We are sharing our booth with 8 other members of Club ADEME International, to promote their know-how for international visitors.
– Club ADEME International constantly listens to the needs of its members to reshape its value proposition: where do you think this value proposition is heading?
We try to interact a lot with our members to be more and more effective. Export and innovation are very tied, so we always have to be aware of all the new environmental rules and labels. Moreover, the companies members of Club ADEME International always require new services and new models of international business. We have to listen every day and to get the best practice from what is working. For example, we have developed a real link with the French association of venture companies (AFIC) because our member really needs to find financing solutions to support their development.
– In this context of global economic and social crisis, what are the countries that stand out in terms of sustaining an environmental effort?
Europe is leading because we have a very strict policy about emissions reductions and low carbon energy development.
All the countries of OECD keep a real effort about sustainable development. Nevertheless, emerging countries like China, Brazil or India are investing in the technologies that could help them to reduce their impact on the environment, for example in China with the solar industry, or in Brazil with hydro power.
Today, there is a lot of opportunities for companies who have real innovative products to help to solve or to monitor environmental issues everywhere.
– In your opinion, what are the short term environmental needs of governments?
Today, governments have to face a lot of different problems: economic, social and now environmental. They need to find out solutions to mix these 3 aspects.
For me, one of the solutions is to develop a real carbon tax, to reduce GHG emissions but also to solve social and economic issues. With these kinds of instruments, you could redevelop a local industry, local farming, etc.. Today it seems totally absurd to me to see people in Paris, France eating apples from Chile or grapes in winter.
These sorts of measures could solve a lot of environmental problems.
– Do you think software has a role to play to help corporations and countries better their environmental performance?
Of course, all organizations and governments need tools to monitor their environmental issues.  Today, with the Internet, smartphones…etc, you have to find quickly all the data you need, especially for corporations and public bodies. Software provides exactly that kind of service.
– What's the best piece of advice you could give to a greenovating SME willing to expand abroad?
Find a good partner and work with an effective network that could give you information and advice in your international development. For example: Club ADEME International
Thank you for your time Olivier!